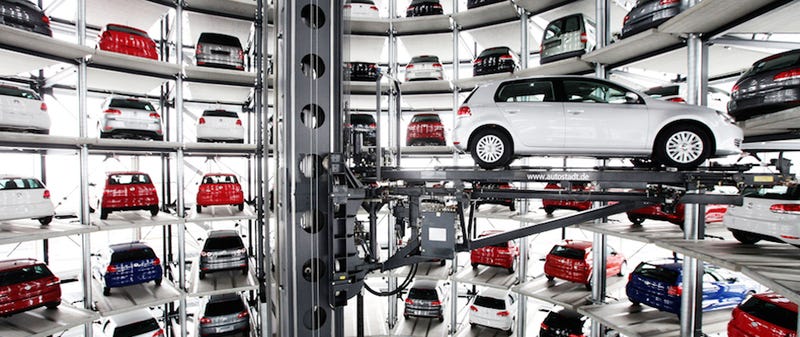 ---
10.) Umihotaru
Umihotaru, which translates to "sea firefly" is a man made island that serves as a rest stop for the underwater Tokyo Bay Aqua Line. Check outSpeedhunters for more photos of this gorgeous floating parking lot.
---
9.) Kant-Garagen
This garage built in 1929 in Berlin doesn't look like much, but it's the oldest parking garage in Europe and the only inter-war garage that still stands! This Bauhaus design is so cool, it was registered as a historical monument.
---
8.) TreviPark
You see that Fiat there parked on that small space? It's about to be lowered to an automated underground car park in Turin that can hold up to 84 cars. That's clever.
7.) Marina City
How many other parking garages are cultural icons? Chicago's two waterfront towers were featured prominently on the cover of Wilco'sYankee Hotel Foxtrot and in countless movies.
---
6.) Kansas City Library
Simple idea, brilliant execution. Check out the Library's site for information on all the books featured.
---
5.) Michigan Theatre
Once a beautiful and opulent theatre built in 1926, this Detroit icon is now the world's most haunting parking garage.
---
4.) Santa Monica Civic Center
Santa Monica has a bevy of gorgeous parking structures but this one is the best with its beautiful LED illumination. It's brilliant in that it adds parking ans compliments the neighborhood.
---
3.) RoboVault
There's a lot of great automated parking structures, but Fort Lauderdale's RoboVault has technicians to check the vitals of your car for you.
---
2.) Parc Des Célestins
This large parking tower in Lyon features a hollowed out center with a slowly rotating mirror that reflects the sunlight. Why? Why not!
---
1.) VW Autostadt Towers
The two glass towers at VW's Autostadt in Wolfsburg hold all the VWs that are waiting to be delivered. The mechanical platform brings the cars down to the ground level to their new owners. Stunning.